首屆千裏獎表揚華人傑出學生  :江旻憓、蘇慧音、薑宇飛、炎明熹、盧羨恩、邱若嵐獲獎!
    為了連結、表揚和推廣海外海內的傑出華人學生,香港高等教育協會聯同《亞洲週刊》舉辦首屆「全球華人傑出學生大獎」千裏獎,頒獎禮日前在香港尖沙咀馬可孛羅酒店順利舉行。大會除了邀請到香港特別行政區保安局局長鄧炳強作頒奬嘉賓外,亦邀請了香港特別行政區行政長官李家超透過視像勉勵各得獎同學。
    首屆獲得千裏獎的同學包括:世界女子重劍「一姐」江旻憓、奧運乒乓獎牌得主蘇慧音、鋼琴家薑宇飛、中港著名歌手炎明熹、豎琴演奏家盧羨恩,以及生物研究員邱若嵐。在頒獎禮上,香港特別行政區保安局局長鄧炳強致辭時表示,很榮幸獲邀為今次千裏獎的頒獎嘉賓,在此,希望各得獎同學能夠繼續好好裝備自己,在未來貢獻國家和社會。最後,他祝願各位得獎同學學業進步,奮發向上。
    香港高等教育協會會長林偉文表示,香港高等教育協會一直關注兩岸四地年青人的成長,故今年首次聯同《亞洲週刊》舉辦「全球華人傑出學生大獎」千裏獎,旨在打破地域的界限,在全球範圍內選出優秀的華人學生,並給予榮譽鼓勵,頌揚並激勵華人學生,除了學術努力,更在運動、音樂、科創等領域發揮青春的創造力、新一代的想像力,展示他們的卓越的能力與潛力。
  The first Qianli Award recognizes the following outstanding Chinese students: Jiang Minxi , Su Huiyin , Jiang Yufei , Yan Mingxi , Lu Xianen , Qiu Ruolan.
In order to connect, commend and promote outstanding Chinese students overseas and at home, tHong Kong Association of Tertiary Education and Yazhou Zhoukan (YZZK) jointly organized the first "Global Chinese Outstanding Student Award" Qianli Award. The award ceremony was successfully held at the Marco Polo Hotel in Tsim Sha Tsui, Hong Kong a few days ago. In addition to inviting Deng Bingqiang, Secretary for Security of the Hong Kong Special Administrative Region, as the award presenter, the conference also invited the Chief Executive of the Hong Kong Special Administrative Region, Li Jiachao, to encourage the award-winning students through video conference.
    The students who won the Qianli Award include: Jiang Minkai, a world champion of women's epee, Su Huiyin, an Olympic table tennis medalist, Jiang Yufei, a pianist, Yan Mingxi, a famous singer from China and Hong Kong, Lu Xianyan, a harpist, and Qiu Ruolan, a biological researcher. At the award ceremony, Tang Bingqiang, Secretary of the Security Bureau of the Hong Kong Special Administrative Region, said in his speech that he was honored to be invited as the award presenter of the Qianli award. He hopes that the awardees can continue to develop themselves and contribute to the country and society in the future. Finally, he wished all the award-winning students hard work and progress in their studies.
   Lin Weiwen, president of Hong Kong Association of Tertiary Education, said that the Hong Kong Higher Education Association has always paid attention to the growth of young people in the four places across the Taiwan Strait (Mainland China, Taiwan, Hong Kong and Macau). Therefore, the award this year was held with aims to break geographical boundaries, select outstanding Chinese students from all over the world, and to deliver honors and encouragement to further motivate them. In addition to their academic efforts, the students also demonstrated their youthful creativity and imagination in sports, music, science and innovation and other fields, showing talents, ability and potential in diverse ways.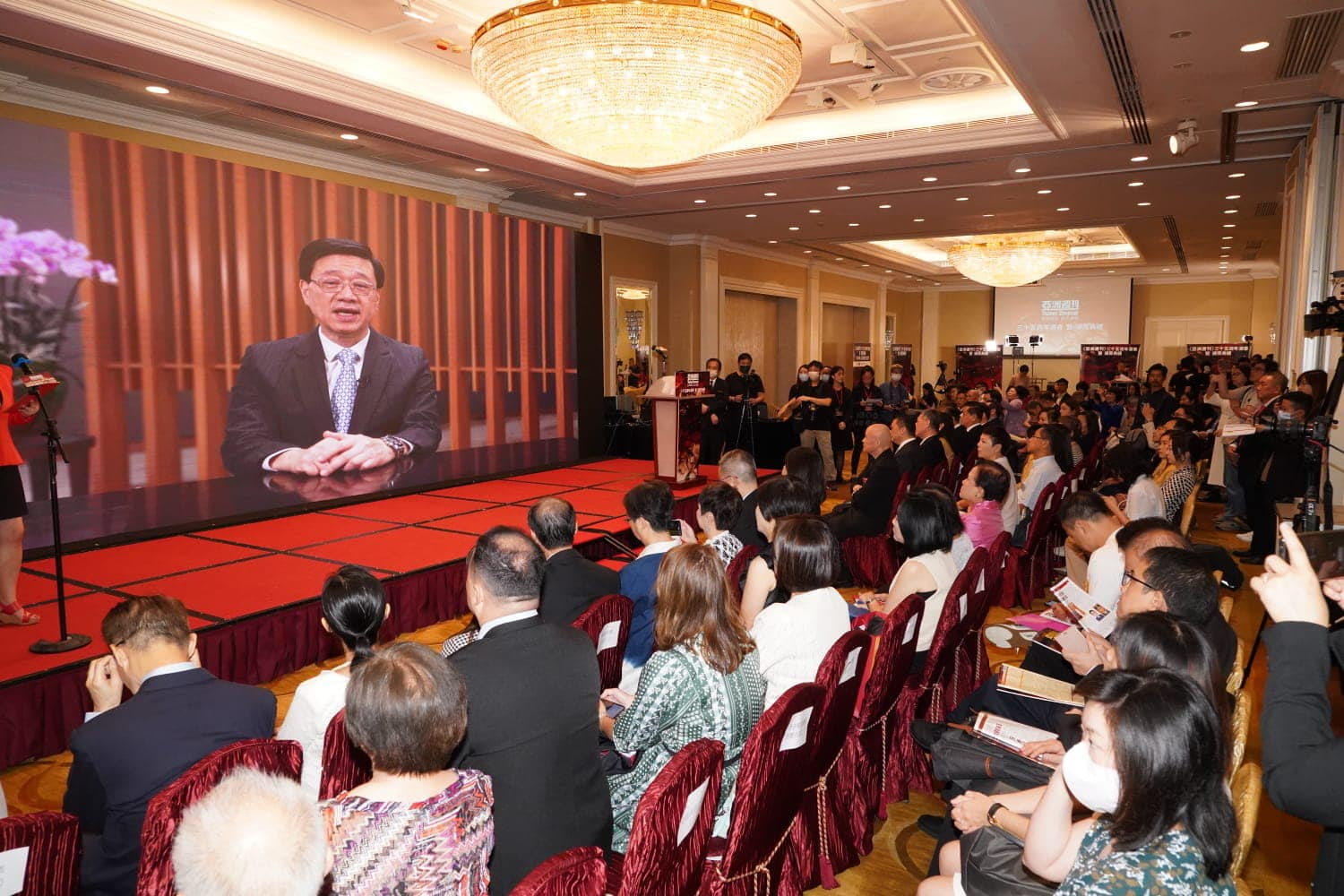 圖:行政長官李家超透過視像勉勵各得獎學生
Photo: The Chief Executive, Mr Lee Ka-chiu, encourages the award-winning students through a video
     炎明熹發表得獎感言時表示,她很好高興獲得「全球華人傑出學生大獎」千裏獎,新一年她即將步入香港理工大學,將在全新的時裝設計領域裏面,會積極學習吸收新知識,發展自己的興趣。兼顧學業的同時,事業方面,她會努力鑽研及做更多好的音樂作品,嘗試新的風格及突破自己。她又勉勵各位有夢想的華人青年,勇敢去跳出舒適圈,嘗試不同範疇的事,不論是參加比賽或參與社區服務等,透過這些機會不斷發掘潛力。她最後希望很快在不同舞臺見到大家。
      In her award acceptance speech, Yan Mingxi said that she was delighted to receive the Qianli Award.  She is about to enter the Hong Kong Polytechnic University in the following year. While taking care of her studies, she plans to generate better musical pieces, try new styles and break through herself. She also encouraged all Chinese youths with dreams to bravely step out of their comfort zone and try different fields, whether it is participating in competitions or participating in community service, etc., and constantly explore their potential through these opportunities. She looks forward to meeting everyone on a different stage soon.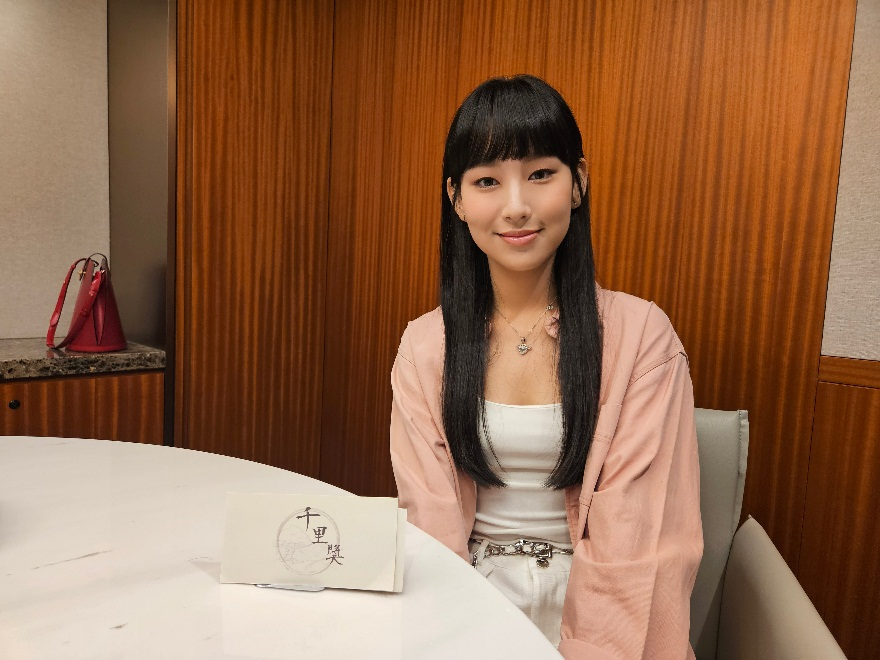 圖:炎明熹勉勵各位有夢想的華人青年,勇敢去跳出舒適圈。
Picture: Yan Mingxi encourages all Chinese youths with dreams to bravely jump out of their comfort zones.
     薑宇飛表示,很榮幸獲得千裏獎,並感謝香港高等教育協會對她的支持,以及父母和老師對她的信任。她表示,學業取得好成績需要合理分配學習休息的時間,平時花很多時間在學習,所以需要一抽空培養興趣以調整狀態,才會有精力學習。同時,興趣也可以建立在學習之上,例如她的興趣是彈鋼琴,父母亦曾寄望她往後能夠從事相關工作。她希望各位能夠好好分配時間,平衡學習及培養愛好的時間,才會有更多精力挑戰自我。

   Jiang Yufei said that she was honored to receive the Qianli Award and thanked Hong Kong Association of Tertiary Education for its support. She also thanked her parents and teachers for their trust in her. She said that achieving good academic results requires a reasonable allocation of time for study and rest. A lot of time should be spent studying, so it is necessary to take time to develop interests and adjust one's state, so that you will have enough energy. At the same time, interests can also be based on learning. For example, her interest is playing the piano, and her parents once hoped that she would be able to engage in related jobs in the future. She hopes that everyone can allocate time well and balance the time between studying and cultivating hobbies, so that they will have more energy to challenge themselves.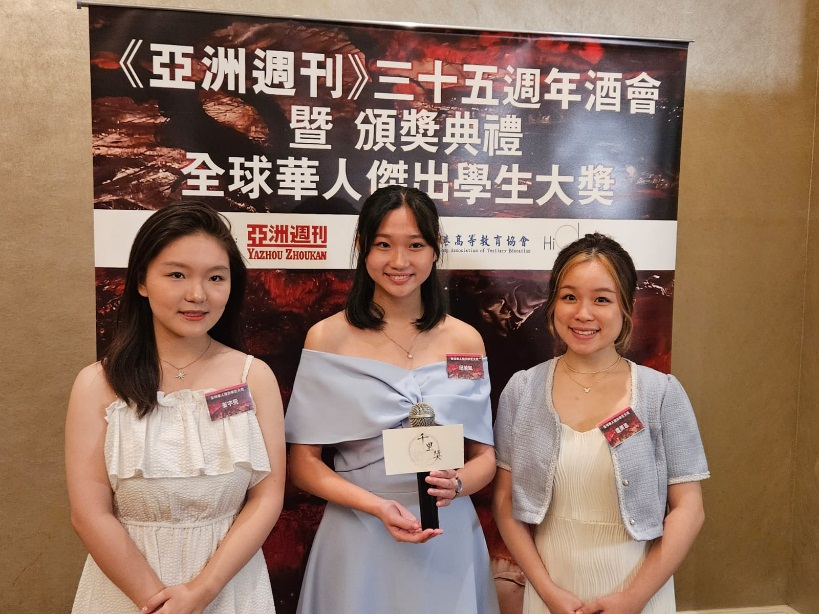 圖:(左起)薑宇飛、邱若嵐、盧羨恩三名得獎同學合照。
Photo: ( From left ) Jiang Yufei, Qiu Ruolan and Lu Xianen took a group photo of the three award-winning students.
    邱若嵐對得獎感到非常開心和榮幸,透過運用過往經驗,期望能夠彌合科學與香港新一代的差距,並實現對貢獻社會的抱負。她期待著未來的挑戰,並希望能夠為香港的年輕一代帶來積極的影響,推動科學教育的發展。邱若嵐表示,在追夢過程中,勿忘初心是重要的一點,「世界會不斷否定你,但無論遇到甚麼困難,也要相信自己。」
    盧羨恩對獲得千裏獎感到高興,並開心能認識很多新朋友,她認為,成功有很多不同的定義,未必做醫生、律師這些高薪行業才算是唯一標準,能夠幫助社會、幫助別人也可以說是成功。盧羨恩表示,香港的音樂教育有不少改善空間,故希望創立一個平臺,集合不同的音樂老師,前往不同的學校提供音樂課程,期望香港每一個小朋友都能接觸音樂。
  Qiu Ruolan is very happy and honored to receive the award. Building on past experience, she hopes to bridge the gap between science and the new generation in Hong Kong, and realize her ambition to contribute to society. She looks forward to the challenges ahead and hopes to have a positive impact on Hong Kong's young generation and promote the development of science education. Qiu Ruolan said that in the process of pursuing dreams, it is important not to forget one's original intention, "The world will continue to challenge you, but no matter what difficulties you encounter, you must believe in yourself."
     Lu Xianen is elated to have won the Qianli Award, and is happy to meet new friends. She believes that there are many different definitions of success, and it may not be the only criterion for high-paying professions such as doctors and lawyers. Being able to push for social justice and help others can also be called success . Lu Xianyan said that there is still room for improvement in music education in Hong Kong, so she hopes to create a platform to gather music teachers and go to different schools to provide music courses, hoping that every child in Hong Kong can be exposed to music.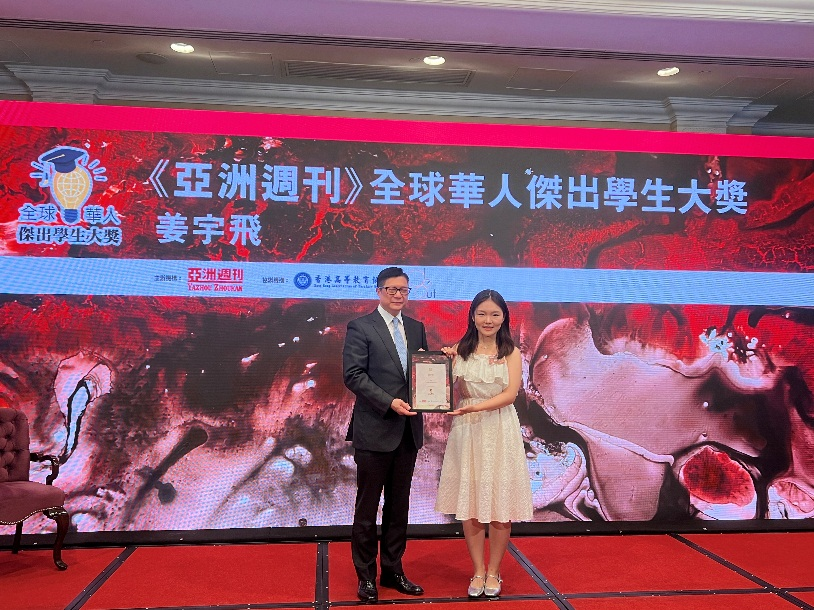 圖:保安局局長鄧炳強頒獎狀予得獎同學薑宇飛。
 Photo: The Secretary for Security, Tang Bingqiang, presents a certificate to Jiang Yufei, the award-winning student.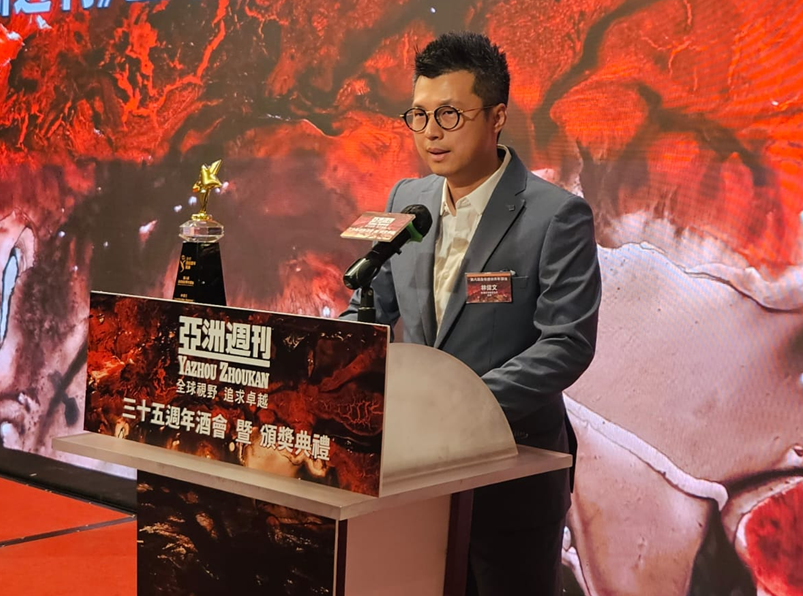 圖:香港高等教育協會林偉文會長致辭。
Photo: Mr. Lin Weiwen, President of Hong Kong Association of Tertiary Education, delivered a speech .
    香港高等教育協會會長林偉文表示,舉辦千裏獎旨在頌揚和激勵華人學生,除了學術努力,更肯定學生在運動、音樂、科創等領域發揮青春的創造力。
   Lin Weiwen, president of Hong Kong Association of Tertiary Education, said that the purpose of holding the Qianli Award is to celebrate and motivate Chinese students. In addition to academic efforts, it also affirms students' youthful creativity in sports, music, science and technology innovation.
各得獎同學小檔案
Profiles of award-winning students
蘇慧音
蘇慧音父親蘇俊華為乒乓球隊前香港代表,三歲已隨父親學習乒乓球,15歲從拔萃女書院退學,成為全職運動員。港乒乓女團於東京奧運團體賽,以場數3:1擊敗德國摘銅,當中蘇慧音獨取兩分。
蘇慧音透過香港科技大學「學生運動員入學計畫」獲特別取錄,於2022年入讀香港科技大學理學院。
Su Huiyin
Su Huiyin's father, Su Junhua, was a former Hong Kong representative of the table tennis team. He started learning table tennis with his father at the age of three, and dropped out of Diocesan Girls' School at the age of 15 to become a full-time athlete. The Hong Kong women's table tennis team beat germany 3 : 1 in the Tokyo Olympic team competition and won the bronze medal, in which Au Huiyin scored two points.
Su Huiyin received special admission through the "Student-Athlete Enrollment Program" of the Hong Kong University of Science and Technology and will be admitted to the Faculty of Science of the Hong Kong University of Science and Technology in 2022 .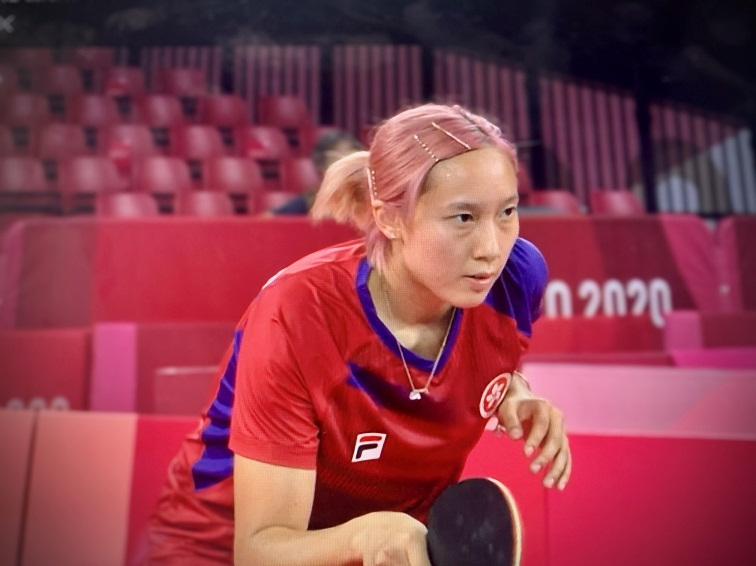 圖:蘇慧音在東京奧運中,在乒乓女團賽為香港隊奪得銅牌。
Picture: Su Huiyin won the bronze medal for the Hong Kong team in the women's table tennis team competition in the Tokyo Olympics.
江旻憓
江旻憓曾兩度當選「香港傑出青少年運動員」,並曾代表香港在仁川亞運會及雅加達亞運會贏得兩面銅牌,更在2019年初於劍擊世界盃古巴站和巴塞隆拿站女子重劍專案奪得金牌,成為首名在此級賽事奪得最佳成績的香港劍手,世界排名更躍至第一位,締造港隊歷史。江旻憓之後受傷員等因素影響,排名一直徘徊在第六、七,至今年重劍大獎賽哥倫比亞站奪得金牌,相隔4年終於重返世界排名第一。江旻憓於2021年獲選為十大傑出青年,以表揚對社會的貢獻。
Jiang Minxi
Jiang Minxie has been elected as "Hong Kong Outstanding Youth Athlete" twice, and has won two bronze medals on behalf of Hong Kong in the Incheon Asian Games and the Jakarta Asian Games. She won the gold medal and became the first Hong Kong swordsman to win top award in this level of competition. Her world ranking once jumped to first place, creating the history of the Hong Kong team. After being impacted by factors such as injuries, Jiang's ranking hovered between sixth and seventh. Finally, in this year's Epee Grand Prix Colombia, she won the gold medal and returned to the world's number one after 4 years. Jiang Minxi was selected as one of the Ten Outstanding Youths in 2021 in recognition of his contribution to society.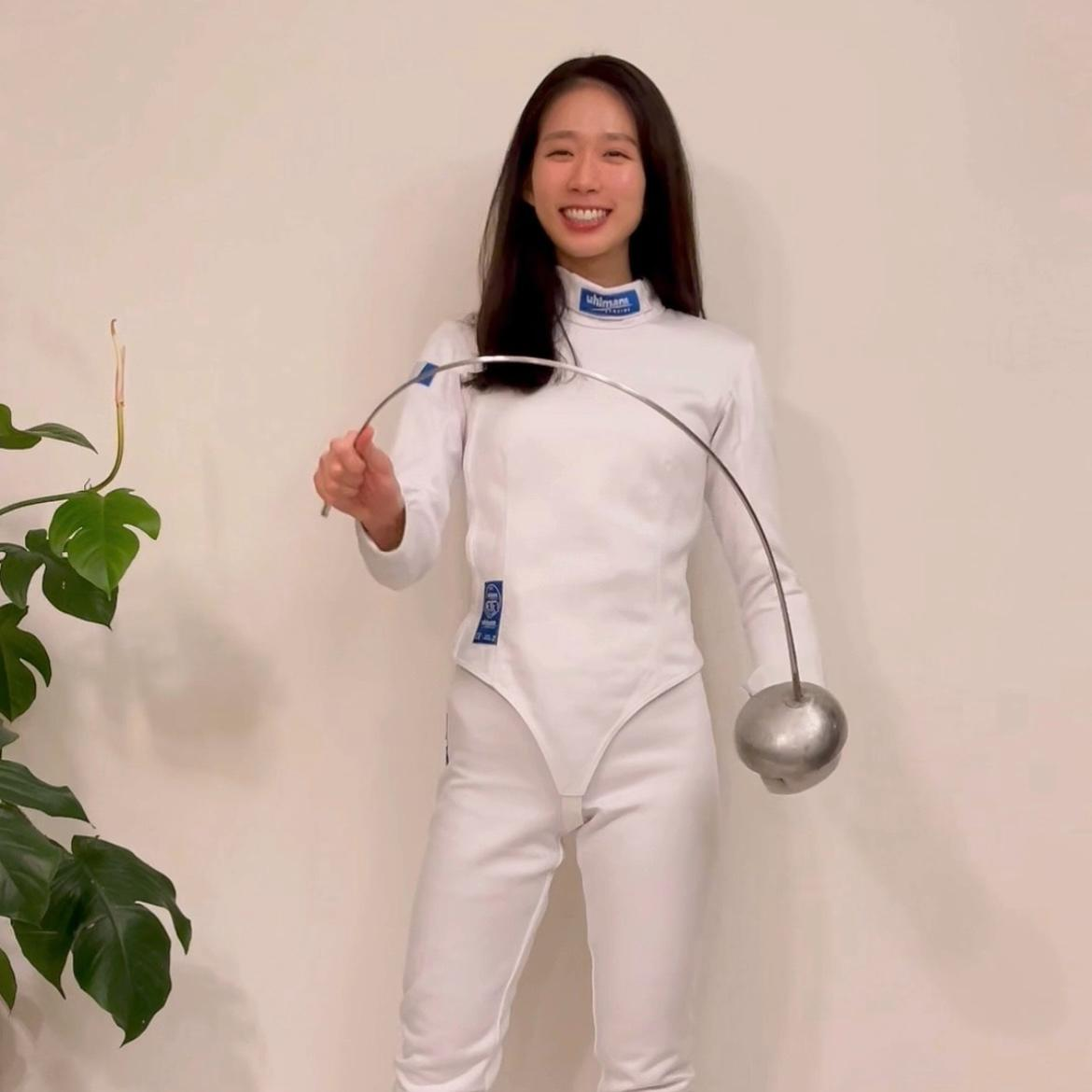 圖:江旻憓在劍擊賽場獲獎無數。
Picture: Jiang Minxi has won numerous awards in the fencing arena.
 薑宇飛
薑宇飛為河北保定人,2023年畢業於河北省保定第一中學,她從小愛好音樂,曾在兩項國際級鋼琴賽事獲獎,分別是「肖邦紀念獎」香港國際鋼琴公開賽和俄羅斯國際音樂公開賽獲鋼琴中國作品組一等獎。2022年,薑同學入選河北省教育廳宣傳中心開展的「冀港紫荊計畫」HKDSE專案,並榮獲最高級別「紫荊獎學金」,總成績位列河北省第一名。
Jiang Yufei
Jiang Yufei is from Baoding, Hebei Province. She graduated from Baoding No. 1 Middle School in Hebei Province in 2023. She has been fond of music since she was a child. She has won two international piano competitions, namely the "Chopin Memorial Award" Hong Kong International Piano Open and first prize in the Russian International Music Open. In 2022 , Jiang was selected into the "Hebei-Hong Kong Bauhinia Project" HKDSE project launched by the Publicity Center of the Hebei Provincial Department of Education, and won the highest level of "Bauhinia Scholarship", ranking first in Hebei Province in total.
炎明熹
炎明熹原名為王佳恩,她自小熱衷歌唱表演,年僅13歲已在《沙田超新聲歌唱大賽2018》決賽中勇奪少年組冠軍。炎明熹在《聲夢傳奇》奪得三料冠軍後,瞬間成為樂壇耀眼新星,今年初還登陸上被喻為春晚之最的「央視春晚」。學業方面,炎明熹透過「學校推薦直接取錄計畫」獲香港理工大學取錄,修讀時裝(榮譽)文學士組合課程。
Yan Mingxi
Yan Mingxi, formerly known as Wang Jiaen, has been keen on singing and performing since she was a child. At the age of only 13 , she won the championship of the junior group in the final of the "Shatian Super New Voice Singing Contest 2018 ". After Yan Mingxi won the three championships in "Legend of Dreams", he instantly became a dazzling new star in the music scene. Earlier this year, he also appeared on the "CCTV Spring Festival Gala", which was hailed as the most Spring Festival Gala. In terms of academics, Yan Mingxi was admitted by the Hong Kong Polytechnic University through the "School Recommended Direct Admission Scheme" to study the Fashion (Honours) Bachelor of Arts combined course.
邱若嵐

資優生邱若嵐從小對科學感興趣,更熱愛生物學。中三時參加了「第四屆香港資優師徒計畫」,成為科大吳若昊博士的徒弟,在大學實驗室擔任影子實習生,與研究人員交流和學習。她的人生理想是希望把生物學與教育結合,教授學生同時為社會作出貢獻。
Qiu Ruolan
Gifted student Qiu Ruolan has been interested in science since childhood and loves biology. She participated in the "Fourth Hong Kong Gifted Mentoring Program" in Grade 9 and became an apprentice of Dr. Wu Ruohao of HKUST. Serving as a shadow intern in the university laboratory, Ruolan exchanged and learned among researchers. Her ideal in life is to combine biology with education, to teach students and contribute to society at the same time.
盧羨恩
畢業於德望中學的盧羨恩在中學階段學業成績優良,並積極參與社會服務,先後獲得「香港傑出學生」、「香港傑出青少年」及「香港十大傑出大專學生」等榮譽。她在中學文憑試以共摘下十二粒星的佳績順利得到香港大學取錄主修有「神科」之稱的國際商業及環球管理,由於她熱愛音樂,曾於多個音樂大賽中獲獎的她決定以音樂為副修,最終以一級榮譽畢業。盧羨恩獲發英國皇家音樂學院獎學金修讀碩士,主修豎琴演奏,進一步增強自己的音樂造詣。
Lu Xian-en
Lu Xian-en graduated from Good Hope Secondary School with excellent academic performance in secondary school and actively participated in social services. She has successively won honors such as "Hong Kong Outstanding Student", "Hong Kong Outstanding Youth" and "Hong Kong Top Ten Outstanding Tertiary Students". With a total of 12 stars in the HKDSE, she was successfully admitted to the University of Hong Kong to major in international business and global management, which is known as the "God-like Major". Because of her love for music, she has won awards in many music competitions. She decided to minor in music, eventually graduating with first class honors. Lu Xianen received a scholarship from the Royal Academy of Music to study for a master's degree, majoring in harp performance, to further enhance her musical attainments.